'Gender' to 'Transgender': Mourning the Passing of Queer Korean Activists – Minju Kim
eayanadminno2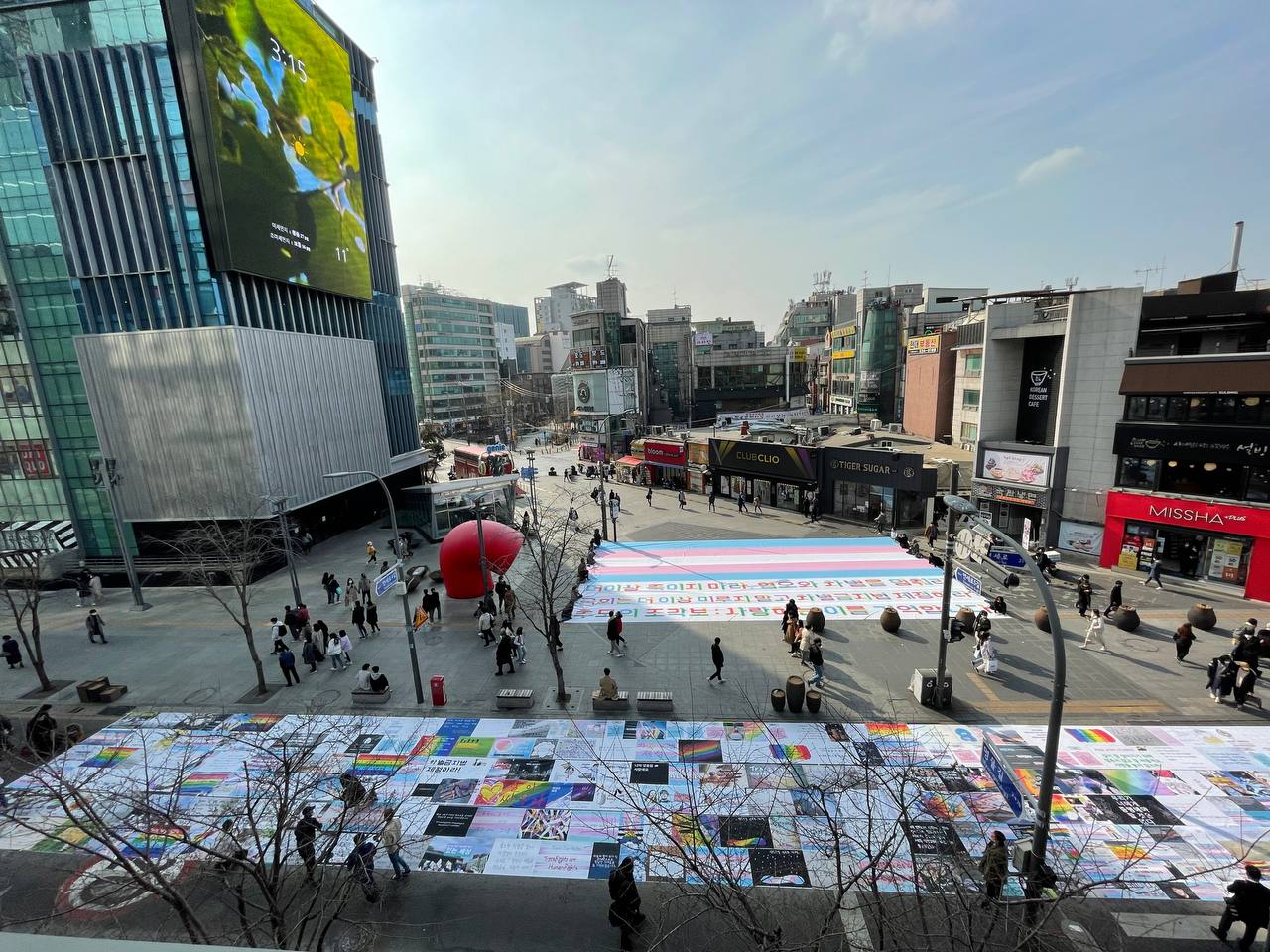 ▲Image: Memorial in Sinchon, Seoul for recently lost transgender activists. Credit: @tg_jokabo / Twitter 
Author: Minju Kim
'Scrutinizing gender again…and recognizing transgender people as 'citizens' can traverse and move beyond the de facto gender norms.'
Seonwoo Yoon in 'Scrutinizing 'Gender' to 'Transgender'
On February 24 2021, Kihong Kim, Co-Chair of the Jeju Queer Culture Festival Organization Committee and a former candidate for Proportional Representative of the Green Party – who also identified as non-binary and transgender – passed away. A week later, Hee-Soo Byun, South Korea's first openly transgender soldier, was found dead at her home. Both individuals had been lauded for their activism work within South Korea's transgender community. The deaths of the two activists sparked both pain and controversy within the LGBTQ+ and human rights-focused communities in Korea. While many expressed their condolences, others also voiced their concerns about the growing discrimination and violence against LGBTQ+ identifying and trans individuals in Korea.
Before getting involved in politics and running in the local election, Kihong Kim worked as a music teacher in a local middle school. During Kihong's Huffington Post interview, ze* mentioned that ze decided come out as non-binary and transgender after the presidential election debate on April 25, 2017 [5]. The current president of South Korea, Moon Jae-In who at the time was the strongest leading candidate, was wholly opposed to legalizing same-sex marriage during ongoing debates. Kihong said "I don't understand why my identity should need any kind of societal consent. That's when I decided to come out, even to my students".
When Kihong ran for the 21st General Election to be a Proportional Representative of the Green Party in Jeju, ze stated that their reason for living was to spread more hope in the world for the transgender community and create a society where people can live together in harmony:
"I am a person who wants to break the existing order and expand human rights and equality … I am a hope for someone out there. So I live, and I try to live well. I want to become a bigger hope for others. …… I want to be the person in the National Assembly who can talk about the problems that I face as well as many others like me. That's why I want to enter the National Assembly."
As Kihong mentioned in their speech, the LGBTQ+ community has continually been in need of wider support from Korean mainstream society. According to the survey conducted by the Human Rights Commission on the impact of hatred and discrimination against transgender people in Korea in February 2020, 337 (57.1%) of the 590 respondents stated that they had experienced depression, and 143 (24.4%) had either been diagnosed with or treated for panic disorders [4]. Despite such devastating results, the recent claims made by South Korean politicians strongly opposed the identity of LGBTQ+ community and their activism. Ahn Cheol-Soo, the Representative of People's Party recently made a controversial claim that non-LGBTQ+ people also have the right to be 'protected' from Seoul Queer Culture Festival since it is "excessively violence" [3]. Such ignorant attitudes towards the LGBTQ+ community had been continuously confronted by activists like Kihong Kim and Hee-Soo Byun.
The news of forced discharge of Hee-Soo Byun, the first transgender soldier who was enlisted in 2017 and went through gender confirmation surgery in late 2019, encouraged other sexual minority activists to speak out more about the Korean army's biased decision. After a forced discharge in January 2020, Byun pleaded to continue serving in the Korean Army as a female soldier. Many activists expressed their discontent at the Korean Army's decision that the loss of male genitalia constituted a Level Three physical disability under military law. The National Human Rights Commission of Korea concluded that the Korea Army's decision lacked legal grounds last December. On March 4, Choi Young-ae, the chairperson of the National Human Rights Commission announced "We urge the National Assembly again to discuss the enactment of the anti-discrimination act so that all members of our society can be protected from discrimination and hatred and live equally". After Hee-Soo Byun was found dead at her home, Colonel Moon Hong Sik said "The Ministry of National Defense hereby shares our sincerest condolences for the loss of sergeant Byun Hee-Soo. We, however, are not currently discussing any changes to be made to the South Korean Army's regulation regarding the service of transgender people".
The recent loss of transgender activists bring us back to the same question presented by Seonwoo Yoon, EAYAN Program participant, one year ago: what is gender, and why is it a matter of life and death for activists who publicize their queerness? Seonwoo notes that gender is a norm formed within patriarchal society, and the arising issues linked with demanding certain feminine/masuline behaviors from transgender individuals. Although activism has the power to initiate a connection with social minorities in order to create a coexisting and harmonious society, enforcing hetronormative gender norms are still limiting this process today and continue to lead to hatred and discrimination: with fatal aftereffects.
With COVID-19 and contact tracing, past prejudices against the LGBTQ+ community have been even more direct. Members of the LGBTQ+ community were unfairly criticized after the sudden cases arising in Itaewon; and there were instances where individual sexual orientation or gender identity were released to the public for no clear reason [7]. In order to raise more awareness and prevent discriminatory attitudes, activism for equitable society is more important now than ever before.
Sources
* ze was Kihong's preferred pronoun.
[1] Asakhan, "Obituary for Kim Kihong from Global Young Greens", KGREENS, February 26, 2021 [http://www.kgreens.org/member/?mod=document&uid=1392&pageid=1]
[2] "Defense ministry expresses condolences over death of transgender soldier", Yonhap News, March 4, 2021 [https://en.yna.co.kr/view/AEN20210304005000325]
[3] Frank Smith, "South Korea: Transgender soldier suicide brings LGBT+ discrimination to the fore", DW.COM, March 23, 2021 [https://www.dw.com/en/south-korea-transgender-lgbtq-discrimination/a-56961043]
[4] Gyeong-min Oh, "Sexual Minorities Fought by "Being," While Discrimination and Hatred Drove Them to "Not Being"", The Kyunghyang Shinmun, March 5, 2021 [http://english.khan.co.kr/khan_art_view.html?code=710100&artid=202103051712002#csidxcae00f0f9f3dbe092640b37fcd78b17]
[5] Hye-Min Do, ""I do politics to go back to school"Says Kihong Kim, Proportional Representative Candidate of the Green Party", Huffington Post, March 23 2020 [https://m.huffingtonpost.kr/amp/entry/kimkihong-thegreenparty-interview_kr_5e7470d4c5b63c3b648ddc3d/]
[6] Juhyun Kwon, "Before Her Sudden Death, She Just Wanted to Live as a Woman and Soldier", VICE World News, March 4, 2021 [https://www.vice.com/en/article/3anm38/south-korea-transgender-soldier-death]
[7] Lim Jang-won, "Linking of COVID-19 to gay clubs raises concerns among sexual minorities", The Korea Herald, May 17 2020. [http://www.koreaherald.com/view.php?ud=20200517000121][8] Hee-won Kim, "Transgender lawyer Han-hee Park 'We cannot make our rights by depriving of others''," Hankookilbo, Feb. 20, 2020, http://m.hankookilbo.com/News/ReadAMP/202002201416081614?did=GS&fbclid=IwAR1oa7E5tasHT0ktuQ5wMVDxB4cclBb0hOMPAUqWZVU9FW0GvFmjhTnS-eo.